Habs Sign One Year Contract With Semin
Photo - nhl.com
The Montreal Canadiens have signed a one year deal with free agent and former Carolina Hurricanes right-winger Alexander Semin, with a contract worth $1.1 million.
The 31 year old was selected 13th overall by the Washington Capitals in the 2002 NHL Entry Draft and played six seasons with the team where he grabbed 386 points (187 goals, 199 assists). He was signed to the Carolina Hurricanes during the 2012-13 season after playing for the Nizhny Novgorod Torpedo in the KHL. Semin grabbed 41 goals and 64 assists in his three seasons with Carolina, a slow decline from his playing days with the Caps.
GM Marc Bergevin said in a statement that Semin is a "pure goal scorer with a good shot. We believe his addition to our group of forwards will strengthen our offensive production and our power play." You can read the full statement below: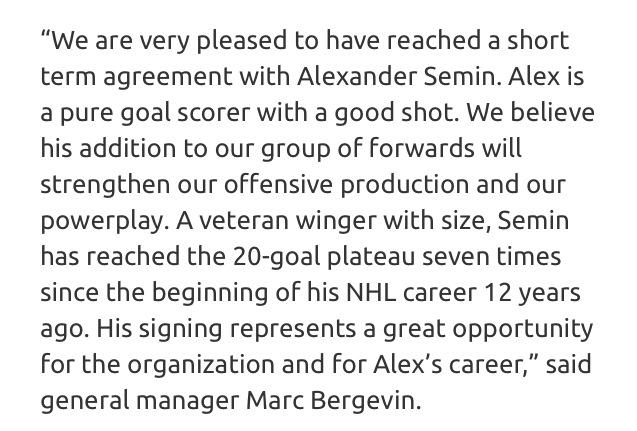 According to Arpon Basu, the worst case scenario is that Semin winds up sitting in the press box or the best case scenario is that he scores 30 goals.
Welcome to the club, Alex!
(Purchase your Canadiens tickets here. | Achetez vos billets des Canadiens ici.)
Follow Jessica-Lyn on Twitter: @EarlxGreat